Zoom in Run Stage 3 – along the Kenyan border
It is the 3rd day running! The route today can be run at a steady pace on the smooth trails and rocky dirt road with mildly undulating hills on the northern side of Kilimanjaro, overlooking Kenya. Only the heat may slow runners down.
We start the day with a few kilometers on a paved road, which allow us to run at a good warm-up pace. Few vehicles are encountered, and motorcycles seem to be the favorite mode of motorized transport. The roadside pedestrians are all amazed and happy to see Wazungu (white people) running on this remote part of the mountain where few (to no) tourists go. Sometimes we leave the road and run onto dirt paths for short segments, until we finally leave the paved road for good as we descend into a series of small, remote, dry, desolate Maasai settlements on the border with Kenya.
We pass right along the border with Kenya, and literally can throw a stone across it! Take note of the open plains leading to Amboseli and Tsavo National Parks in Kenya. Except for the, sparse cropland tilled by the more settled Maasai and other ethnic groups who have moved into the area, it is mostly open land where wildlife roam and the pastoral Maasai live.
As the cool morning gives way to the heat of the day and the high tropical sun became intense, the running can become hot and runners reach more for their water bottles and Camelback tubes.
Following Simon's lead, we stop every few kilometers at the settlements/outposts to chat with the inquisitive locals. The exchange would be mostly in Swahili, but there are always one or two guys with a smattering of English with whom we can all engage about our crazy endeavor! We take lots of pictures and even can witness the juxtaposition of a Maasai in his traditional clothing taking a picture with his cell phone of us in our traditional running gear (a most remarkable sight to him, no doubt!).
The camp that night is set at primary school on a ridge overlooking Amboseli National Park. It's a really welcome site with the hundreds of school kids outside doing their afternoon singing and drills. After a cool down rest spent watching the children and chatting with the more bold ones, we head back to our tents for a cleansing sponge bath followed by another filling, tasty, and nutritious meal.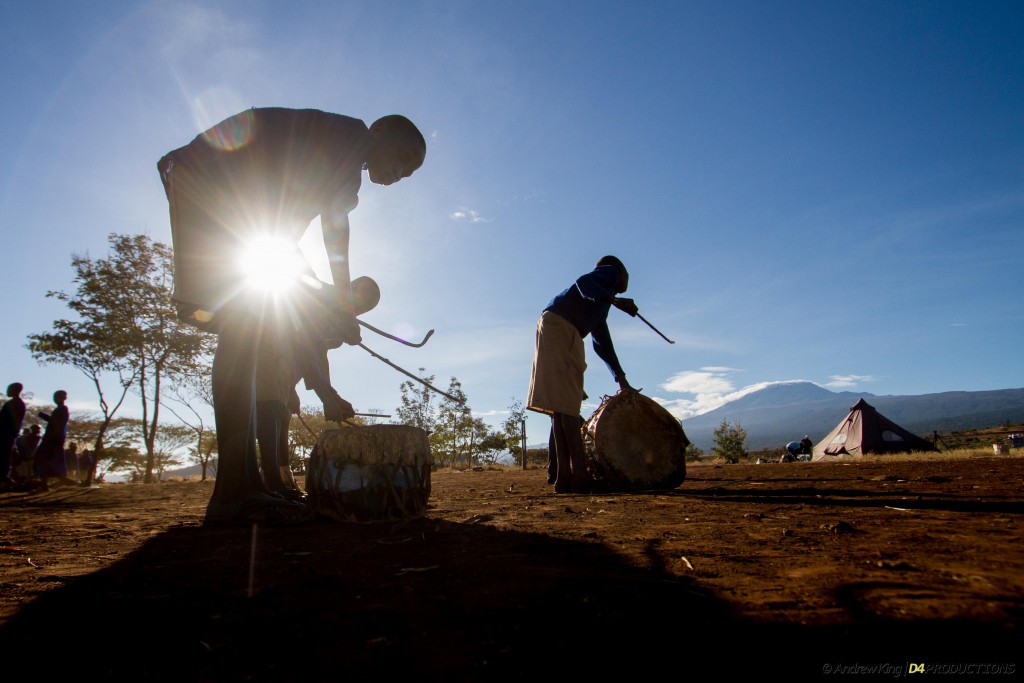 When the sun sets the temperature drops to a pleasant coolness and the sky lights up with stars in this unelectrified expanse. We can see the twinkling lights of the permanent camps and lodges at Amboseli and the moonlight glowing off the Kilimanjaro snowpack when the clouds clear at night. Our simple camp location is an exquisite environment for a peaceful night! Tomorrow is the 4th day running with plenty of heat before we ascend back into the forest!