Simon Mtuy, head guide of the Kilimanjaro Stage Run, has more than one string in his bow! He is Tanzania's foremost trail runner, expert mountain guide, environmental and community development activist, and world-record holder!
Here we uncover the story behind his world records and the reasons why Simon attempted these incredible challenges on Tanzania's iconic Mount Kilimanjaro.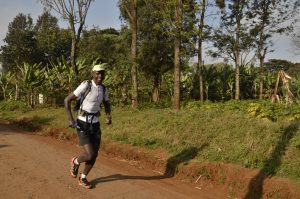 The seed is planted…
Since starting running as a teenager, Simon has trained on the mountain and raced regularly. He eventually became a marathoner and then an accomplished ultra-distance runner with six top-30 finishes in the prestigious 100-mile Western States Endurance Run, among his many racing achievements in the United States and East Africa.
Because of his running experience, Simon was selected in 1997 to guide a climber who was attempting the fastest ascent and descent of Kilimanjaro. The pair succeeded with a time of 19 hours. That run got Simon interested in the idea of speed climbs up Kilimanjaro.  But for Simon, it was never about the record, but rather that a speed run could be a vehicle to help others.
First attempt a success!
Simon explains his motivation: "In 2004, my brother Joachim passed away with human immunodeficiency virus (HIV). I was left with his three kids, to care for them and to give them an education. I took an initiative, which is to run on Kilimanjaro for my brother's memory and also in order to raise funds for his children's education. I wanted also to break the silence concerning this illness by beating the record on this African mountain."
That year Simon raised $2,800 locally for his brother's children's education and set the record for the fastest supported ascent and descent of Kilimanjaro (8 hours 27 minutes round-trip) on 26th December 2004. To put this into perspective, most Kilimanjaro treks require a minimum of five or six days to reach the summit and descend.

Not one but two records!
Though satisfied that the accomplishment helped his niece and nephews, Simon felt selfish for raising money only for his relatives. So, he committed to making another record attempt, one that would raise funds to benefit his whole community. His next record attempt was to earn money for a community center in Mbahe, in memory of his brother, for training AIDS widows and for HIV/AIDS awareness.
Simon spent 12 days by himself on Kilimanjaro, training at different elevations to prepare for the attempt. "I spent a lot of time on the mountain to acclimatize. Actually, I spent a few days in Umbwe, a few days in Barranco, a few days at Lava Tower Camp and finally a few days at Crater Camp. Afterward, I did the route all the way down to Umbwe. I took around 12 days to track down the route and to be physically fit. I rested for a day before I started my fast ascent and descent of Mount Kilimanjaro. The starting point was Umbwe Gate and I went up to the summit and I ran down in order to finish at Mweka Gate."
This time the run was completely unsupported as he carried all his own food and collected water from streams along the way. He made the ascent and descent in a record 9 hours 22 minutes on 22nd February 2006.
It was possible to register this run as a world record thanks to new GPS digital instruments that helped with verification.  The run was recognized as an official Guinness World Record for unassisted ascent-descent on Kilimanjaro.
Struggle on the mountain
For Simon, the motivation to succeed came from his brother's death and his will to raise awareness about HIV/AIDS.  The motivation was powerful, but the challenge was real! Throughout the ascent, Simon kept in mind that he was doing the run for a purpose greater than himself.  He felt the spirit of the mountain help guide him to the top: "I was thinking about my brother who I sincerely miss. I ran in his memory and I ran to raise money. It meant a great deal."
Despite his working on the mountain and extensive running raining at altitude, Simon found the run incredibly difficult. He had to deal with stomach problems and he vomited several times, adding minutes to his time. He felt and saw the physical effects of ascending rapidly to high altitude (see below the video that Simon made during his unsupported record run). He struggled to find water as the regular source at Barafu Camp was dry and he had to drink dirty water in order to reach the finish.
When asked where he gets his inspiration to pursue these challenges, Simon is quick to point to his supportive family, whom he credits with teaching him compassion, empathy, and an inability to walk away from a problem without trying to fix it.
Mentor to world-class mountain runners
In 2013, the Spanish sky runner Kilian Jornet, then 22, came to Simon for training advice in preparation for his own speed attempt on Kilimanjaro. "I was very proud and very enthusiastic to meet Kilian, a young athlete, who wanted to break my record. It was a great deal for me to train Kilian and to run with him and to help him logistically to put his record up, which was 7 hours 14 minutes."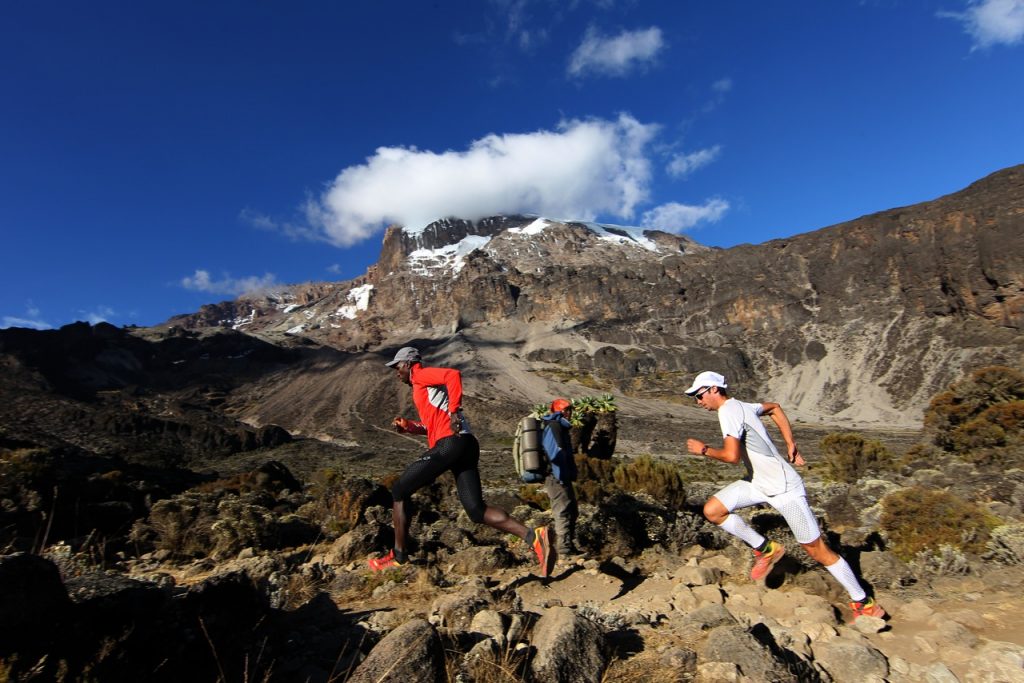 Jornet started his run at 7:15 a.m. from Umbwe Gate, at an elevation of 5,249 feet, and reached the summit 5 hours, 23 minutes, 50 seconds later, breaking the ascent mark. Kilian spent about ten minutes on top and then descended the 13,960 vertical feet back to the finish at Mweka Gate in a startling 1 hour 41 minutes.
Simon was waiting for Kilian at the gate to embrace and congratulate the new record holder: "He is a great young runner who did on Kilimanjaro an awesome performance."
In 2017, Fernanda Maciel, 37 years old, called on Simon to help train her to establish a new female speed record on Kilimanjaro.  On 25th September, Fernanda completed the round-trip from Umbwe Gate to Uhuru Peak to Mweka Gate (same route as Simon and Kilian) in 10 hours 6 minutes, shaving 2 hours 52 minutes off the previous women's record.
Simon continues to run and train, but has no desire to attempt any more records, nor race competitively.
He now runs for fun to stay in shape for leading the international runners that join him on the annual Kilimanjaro Stage Run, to guide (regular) climbs up the mountain, and to keep up with his young sons.