Zoom in Run Stage 0: Arrival, preparation and orientation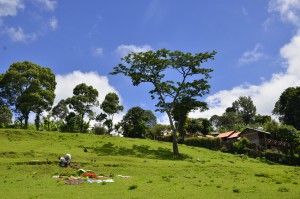 The KSR adventure begins at Simon Mtuy's family farm in Mbahe Village, a 90-minute drive from the Kilimanjaro International Airport in Tanzania. The farm sits on a ridge at 1800 meters on the southeastern flank of Kilimanjaro. From the farm you can see snow-capped Kibo above and views down to the plains below, with Lakes Chala and Jipe to the southeast, the northern edge of the Pare Mountain range to the south, and the Simanjiro plains to the southwest. Everything on the mountain is green and lush due to plentiful rainfall and irrigation from the cold mountain streams.
The Mbahe Village farm is a great place to rest, relax, get away from our 24/7 wired world and get into the rhythm of life in Tanzania, while gearing up for eight days of running. The comfortable farm cottages, built by Simon with sensitivity to the fragile mount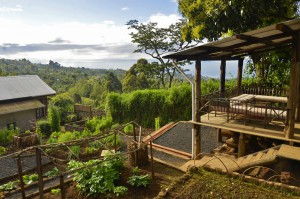 ain environment and responsible community development, mix rustic charm with modern comforts. While at the farm the runners prepare in their own way – whether exploring the farm and its operations, swimming below the waterfall on the mountain-fed Moonjo River that runs through the property, sitting under a tree with a good book, or just admiring the sweeping mountain views with a cup of "homebrew" coffee (grown and roasted on the farm) from the sun deck.
On the day prior to the first stage Simon leads the participants in a shakedown run around the greater village area – making lots of stops to describe the local environment, farming, environmental issues, his projects for community development, greet local elders, and adjust to the sights, sounds, and smells of rural Tanzania. Runners pass by the Marangu Gate (the official start/end point of the run and the main gate into Kilimanjaro National Park) and they get a taste of the variety of trails that they will encounter during the run: dirt roads, paths worn smooth by years of footfalls, steep switchback trails no wider than a shoe, bushwhacking, and rock-strewn ankle-twisting singletrack, among others.
On the morning of the first day of the KSR, before the formal start, runners gather around Simon for a tree planting ceremony in a carefully selected spot in the village. This small but significant act is critical to Simon, who for many years has been involved in re-establishing the indigenous vegetation in the inhabited areas of the mountain – giving back to his village community. Simon works closely with an American climatologist to identify patterns of climatological and environmental change and to link the changes to the summit glaciers with that of the lower elevations where the local people are most affected. In the past century, while 80% of the glacial ice cap has disappeared, thousands of acres of virgin forest have been cut for fuel and cropland – diminishing the protective vegetation that girdles the lower slopes of Kilimanjaro.
After the tree planting, the KSR has its formal start at the Marangu Gate, and then the runners are off on their 8-day adventure that may change them forever…
Photo credits: Nathalie Pigache, Jake Zmrhal