Cassandra Ankney talks about the 2013 KSR…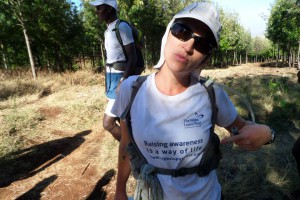 Cassandra Ankney is a multi-sport athlete. She bicycled across America, swims regularly, and had run two half Ironman races and several half marathons before deciding that she wanted to focus on longer distance running events. Her immediate enjoyment of ultra-distance trail running led her to the 2013 KSR. Prior to that – in 2011 – Cassandra was diagnosed with Lupus. Since that time she has dedicated every running event in which she participates to raise awareness of Lupus in hopes of finding a cure. This athlete is like bamboo – nothing can break her down, as revealed in her interview below…
Tell us about yourself. When did you start running?
I started running with more purpose in my early 30's. It was time to push myself into something new and test my abilities. It began with a couple very slow half Ironmans and some smaller running events.
How did you learn about Simon Mtuy's Kilimanjaro Stage Run?
I was flipping through a trail running magazine, just itching to do my very first multi-day run – but only if it was in a cool place. Then Simon's ad caught my eye. I ran it by my coach, Mike Ehredt, who said, "Oh yeah, I know that guy." Of course he knew him!! These crazy distance runners all know each other to some extent. Before we knew it, we both had plane tickets to Tanzania. I had wanted to go back to Africa for years. I craved something unimaginable. The reward? An experience to never forget.
The Kilimanjaro Stage Run requires experience with ultra running before doing. When did you start running ultras, what events have you done before, and what convinced you to sign up for this one?
With only a few years of decent running experience I had done a few 50Ks, 1/2 marathons, one road marathon, cross country bike trips, distance bike events, two half Ironman's, and a handful of smaller events. Compared to most runners, my list is very small. But like most people searching for the distance challenge, our most important attribute is shall we say, stubbornness…? You don't necessarily need years and years of running experience. What you NEED is the willingness to train your ass off and have the desire to reach a goal you never thought possible. It's simple desire.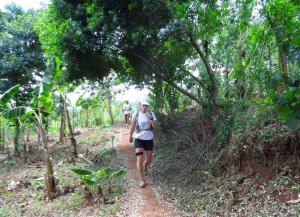 What convinced me to sign up for this run? The list is long but to narrow it down: I have wanted to go back to Africa since my first visit to Kenya and a climb on Mt. Kenya. These trips can change your life. I love adventure, to be a little scared, to push a little harder, learn some silly new words in another language, meet different kinds people, and possibly (for this trip in particular) to summit Kilimanjaro after the run. I chose KSR because I heard great things about Simon, all to be true and then some. Plus, why not take a run and get your butt kicked on the foothills of Kilimanjaro? Let's face it, it sure as heck beat hill-repeats in your own back yard!
Endurance running is the preserve of a very niche group. What characteristics do you think an individual needs to possess to be successful out on the trail?
Well for starters, an individual needs to be eager, curious, focused, and carry a big ol' bag of stubbornness everywhere they go. When you are doing an amazing trip like this, it feels great. But when you are doing an amazing trip for a bigger cause, it is nothing short of endorphin overload. I was diagnosed with Lupus in 2011 and ever since have run with a purpose to raise awareness in hopes of more research funding for a cure. My sister was diagnosed in 1993. Sure, things got hard on the trail and I had to sit some miles out. There were tears and frustration. But more importantly, I was doing it. I was doing it for me…I was doing it for my sister…and who knows where my health would be in 5 years time? It's crazy, you can be in a certain amount of pain and still think: "I woke up. I am breathing fresh air. I have a view of Kilimanjaro from my tent. Whaaat? I am eating the most incredible foods. I am surrounded by strong and talented people. Life is pretty great…Ouch, I think another blistered just popped…" You get the point. If you can be open minded and maintain your sense of humor, you will enjoy this challenge.
What was your favorite moment of the whole run? Were there any events or people that you encountered on the way that you remember in particular?
Wow, that's a hard question. There are so many funny and inspiring moments of the run. We would be plodding along and then BAM, a view of Kili. It was surreal. At one point, a group of young girls started running with us for a short distance in their dresses and sandals, giggling the whole way. Banwelia* supported me even with our language barrier. She smiled and urged me to push myself without saying a word. It's incredible the bonds you can form even without a word. I owe all the credit to my trainer Mike Ehredt who continues to be patient with me and believe in me. And most importantly Simon…his love for his land, his family, his passion for running…he is truly a genuine man of all men.
*Banwelia Katesigwa is a Tanzanian runner who joined the international group as part of training for her own races.
What were your emotions and physical state when you finally reached the Marangu gate with the entire group?
Emotions were running pretty high and it wouldn't have been the same without every single person involved in the run. My physical state was not pretty, however. My shoes were so tight from swollen feet (kankles? so not attractive) and my body ached to say the least. Blisters took over. Nothing too out of the ordinary for a long run. Within the next 24 hours, the extra fluids left my body and after plenty of sleep, I was feeling strong enough to summit Kili.
What is your next adventure plan? Do you feel that KSR helped you out for your future running?
My next big adventure is the Race to the Stones outside of London July 11, 2015. It is a 100K trail run through some beautiful and historic scenery. My incredibly supportive boyfriend is going to run it with me and together we will run for the Hibb's Lupus Trust again. Absolutely KSR helped in realizing it's all in the fun and adventure of running. Nothing I hate more than running the same ol' trail over and over…why not see something new every day? Why not push yourself to limits you thought unattainable?
If you could give one piece of advice to help other runners successfully complete the Kilimanjaro Stage Run, what would it be?
Bring extra Ibuprofen!!!! No seriously, pace yourself…look around…eat ALOT…repeat.
Photo credits: Cassandra Ankney