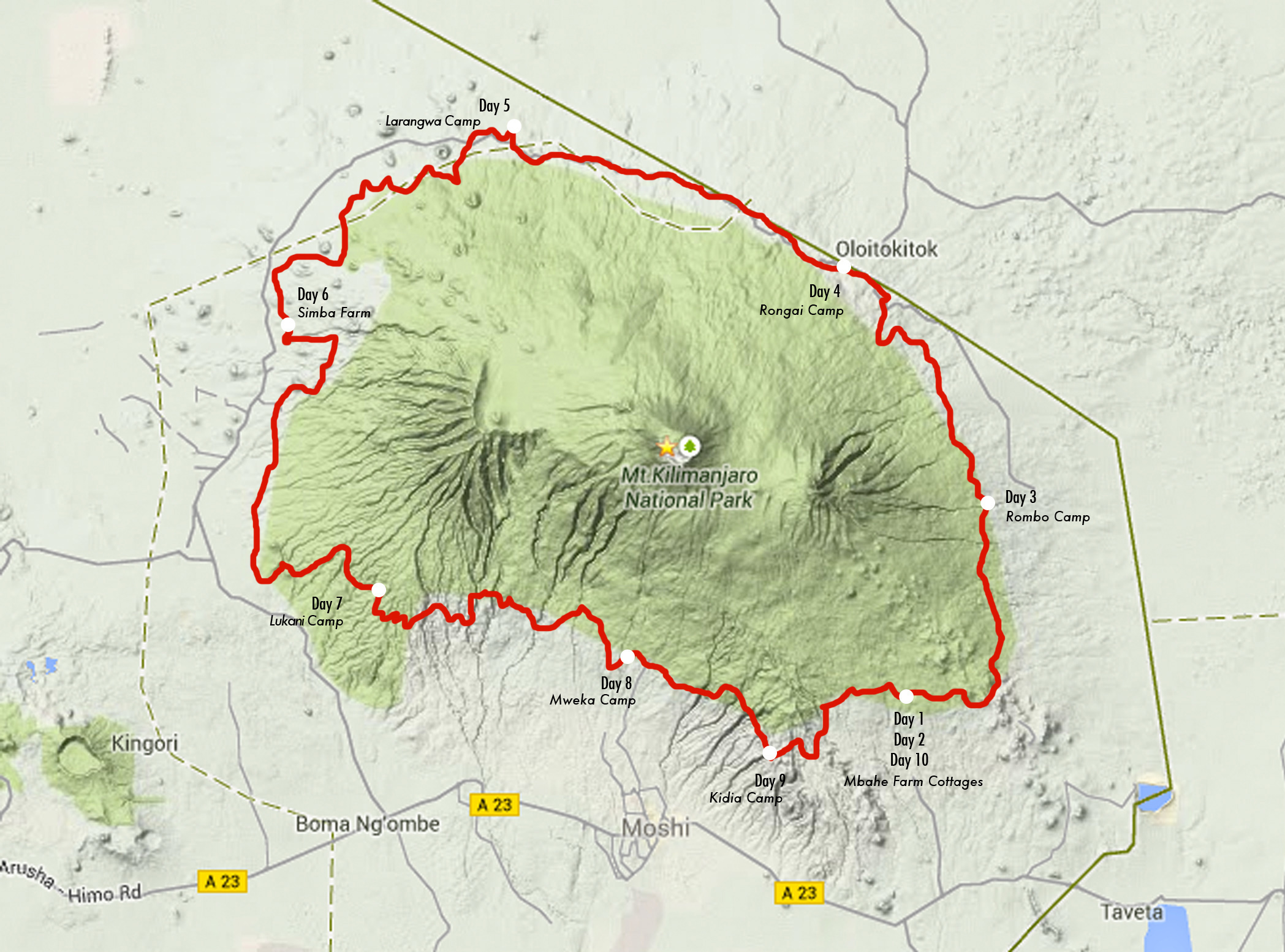 The route circumnavigates the lower slopes of Mount Kilimanjaro over 8 days. You will average more than 30km per day at elevations between 1400 and 2100 meters!  The run starts and ends near the Mbahe Village cottages that Simon built on his family's farm at 1800 meters on the slopes of Kilimanjaro.
2019 Day by Day Itinerary
Distances and elevation +/- approximate.
sat 17 Aug (Day 1): Mbahe Village – Kilimanjaro
Arrive at the Kilimanjaro International Airport. You will be met by a SENE driver and transferred to Mbahe Village on the slopes of Kilimanjaro. Mbahe will be your base for run preparation and orientation.
Accommodation: Mbahe Farm Cottages

sun 18 Aug (Day 2): Mbahe Village – Kilimanjaro
Breakfast welcome and orientation meeting, followed by a farm tour. Light run to explore the village and mountain trails. Lunch and afternoon rest. Free time to explore the farm, swim in the Moonjo River waterfall, relax with a good book, or just admire the sweeping mountain views with a cup of "homebrew" coffee (grown and roasted on the farm). Dinner and additional run details and logistics.
Accommodation: Mbahe Farm Cottages
mon 19 Aug (Day 3): Mbahe to Rombo
From the official start at the Kilimanjaro National Park Marangu entrance gate, we cross dozens of streams and rivers, many with deep and steep gorges to descend and ascend, while keeping Mawenzi, Kilimanjaro's second peak, on our left and Kenya's Tsavo National Park to our right. You will be completely spent at the end of this very difficult first day.
Distance: 32 km
Elevation +: 1,798 m
Elevation -: 1,733 m
Accommodation: Rombo Camp
Profile Stage 1
tue 20 Aug (Day 4): Rombo to Rongai
As we approach Kilimanjaro's drier northeast flank, the number and depth of the gorges lessen, as do the number of settlements. We may encounter colobus and blue monkeys in the forests. The route runs along a paved road along the Kenyan border for a few kilometers.
Distance: 31 km
Elevation +: 1,086 m
Elevation -: 902 m
Accommodation: Rongai Camp
Profile Stage 2
wed 21 Aug (Day 5): Rongai to Larangwa
The forest thins as we run through a dry and rocky landscape, passing Maasai settlements and with the chance to see wildlife migrating from the plains below to mountainside above. Our campsite at a primary school overlooks Amboseli National Park in Kenya, where the only light comes from the stars above and the few safari lodges within the park below.
Distance: 38 km
Elevation +: 532 m
Elevation -: 1,077 m
Accommodation: Larangwa Camp
Profile Stage 3
thu 22 Aug (Day 6): Larangwa to West Kilimanjaro
Exiting the sparse landscape, we skirt Legumishera Hill, which contains a small lake at the summit and is the source of much local superstition. We then run several hilly kilometers along the forest edge between Kilimanjaro National Park and cultivated land. We'll finish the day at Simba Farm, one of the original European farms in Tanganyika Territory.  From the dining area we have spectacular sunset views of Mount Meru.
Distance: 31 km
Elevation +: 780 m
Elevation -: 778 m
Accommodation: Simba Farm
Profile Stage 4
fri 23 Aug (Day 7): West Kilimanjaro to Lukani
Today is the longest stage. We begin with an ascent into the forest reserve where active timber harvesting continues, then exit to a hot and dry lowland stretch, and finally regain much of our lost elevation up to the verdant southern slopes of Kilimanjaro. Traditionally KSR runners have found this stage and the next to be the most challenging due to their distance and intense climbs.
Distance: 44 km
Elevation +: 1,660 m
Elevation -: 1,756 m
Accommodation: Lukani Camp
Profile Stage 5
sat 24 Aug (Day 8): Lukani to Mweka
Today we encounter our steepest valleys and ridges above a densely settled area of smallholder Arabica coffee farms that use centuries-old irrigation canals dug along the mountainside. Each village has its own primary school, each with its own distinctive uniform color for the students.
Distance: 42 km
Elevation +: 2,513 m
Elevation -: 1,466 m
Accommodation: Mweka Camp
Profile Stage 6
sun 25 Aug (Day 9): Mweka to Kidia
Kidia was the site of the first European settlement in the Kilimanjaro region. The original church and mission station are still intact. Each mountain ridge in this area is either predominantly Lutheran or Catholic, depending on the original missionary group operating there. Another day of extreme elevation changes.
Distance: 25 km
Elevation +: 1,658 m
Elevation +: 1,647 m
Accommodation: Kidia Camp
Profile Stage 7
mon 26 Aug (Day 10): Kidia to Mbahe
Running high above the villages and just outside the national park boundary, our final day brings even more spectacular views and a joyous return to Mbahe Village, where we started 7 days ago. Congratulations, you ran around the Roof of Africa! Celebrate with a leap into the river, hot shower, cold beer . . . or all three!
Distance: 22 km
Elevation +: 1,061 m
Elevation -: 982 m
Accommodation: Mbahe Farm Cottages
Profile Stage 8
tue 27 Aug (Day 11): Mbahe Village
Rest, recovery, and relaxation day at the farm. For those returning home you will be transferred to the Kilimanjaro International Airport to catch your flight. For those staying in Tanzania to continue your adventures you may start your safari or Kilimanjaro climb, depart for Zanzibar, or spend an extra night at Mbahe.[/ale_one_half_last]